Description:
You don't have time to wait around for a better knife sharpener, and neither do we. That's why we created it.
Master Grade is designed with professionals in mind, but is just as easy to use at home for professional results. Master Grade is always about quality, performance and value.
Master Grade bakes its grinding stones for 45 days-to create a superior product that outperforms other stones that are only baked for 1-3 days.
Master Grade has exclusive patented angle guides that are able to sharpen and resurface the thinnest knife blades of 1/4 wide and 1/8 high.
No other knife sharpener can function compete because other machines only sharpen blades up to 1/16 high. Master Grade's unique angle guides solve the problem.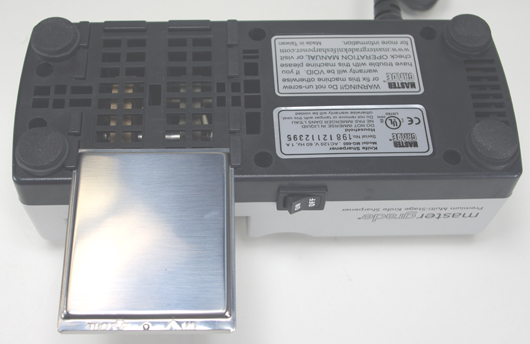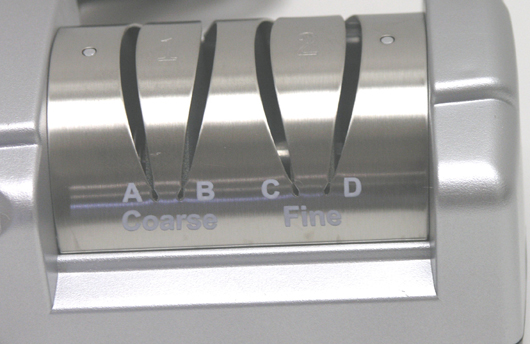 Features:
Keep your knives sharp and functional

Re-surface blades to restore bevel and extend cutlery life up to 10 times

Angle guides maintain 15-degree blade edge

Premium

Soft

stone technology minimizes burr

Premium Industrial grade motor and bearing

UL, CE and GS certified

Compact size L X W X H: 9.0″ x 3.0″ x 3.7″

Limited 5-year warranty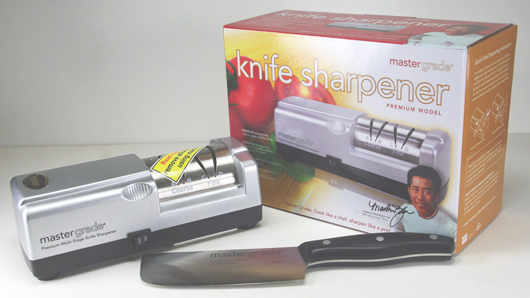 Technical Data
| | |
| --- | --- |
| Voltage 100V – 120V AC | US models |
| Voltage 220V – 240V AC | European models |
| UL, CUL / CE, RoHS, VDE Certified | US/European models |
| Premium Angle Guides | Patented worldwide |
| Wheel Speed | 1,100 rpm |
| Torque | 900 G.C.M. |
| Sharpening Angle (Tan Ø) | 12 |
| Maximum Blade Angle Ø | 15 |
| Minimum Blade Angle Ø | 11 |
| Max Blade Contacts (height) | Up to 0.08″ or 2 mm |
| Unit Net Weight | 2.5 Lbs / 1.1 Kg |
| Dimension W x H x D | 8.7″ x 2.8″ x 3.5″ or 22 cm x 7 cm x 9 cm |